While we enjoy our fun run banter, we also pride ourselves on our operations and your health and safety, so please familiarise yourself with the important info below so you can get the best out of your day.
8.4km of breathtaking NZ coastline with the Hauraki Gulf showcasing the best Auckland has to offer. The course is flat as a pancake - and just as pretty, meaning the course is achievable for all abilities.
The start line is located downtown at Auckland on Quay St beside Spark Arena. We then sweep through the bays, finishing in St Heliers Bay. Once you cross the finish line you'll be gifted with a Pump water and a shiny medal - a real collectable! This course is where personal bests come true, goals smashed, memories made.
Start Groups are there to get the cat out of the pigeons - aka to minimise disruption on course, we need you to start in your allocated group. When registering, please be sure to select an appropriate Start Group for your expected ability. There will be clear Start Group signposts at the start area that correspond to your bib colour so you won't be able to miss it.
Pecking Order:
Elite Wheelchair Athletes (Yellow bibs - by application only) - On the start line

Seeded Runners (Green bibs - by application only) - On the start line

Runners (Blue bibs) - 25m back to Tapora St

Joggers (Red bibs) - between Tapora St and Tangihua St

Walkers, pram pushers (Purple bibs) - between Tanguhia St and Britomart Place
It's okay to start with family and friends in a slower group but please don't be THAT guy or girl and start in what is expected to be a faster group, as you will most likely ruffle a few feathers of people trying to get past you. i.e. don't be a walker starting with the runners.
Could your team be a workplace looking to bond? A fitness club looking to dive into an event together? Or are you a group of people wanting to make a difference by fundraising for a cause close to you all? Whether you run with your mates, colleagues or family, it's time to start rallying the troops and join the 1,300 other teams taking part in NZ's largest fun run!
Even if you don't have your group together yet, you can still begin to create your team and enter yourself, then encourage others to join. If you're an organiser looking to put together a team but not participate yourself, that's no worries, you can do that too!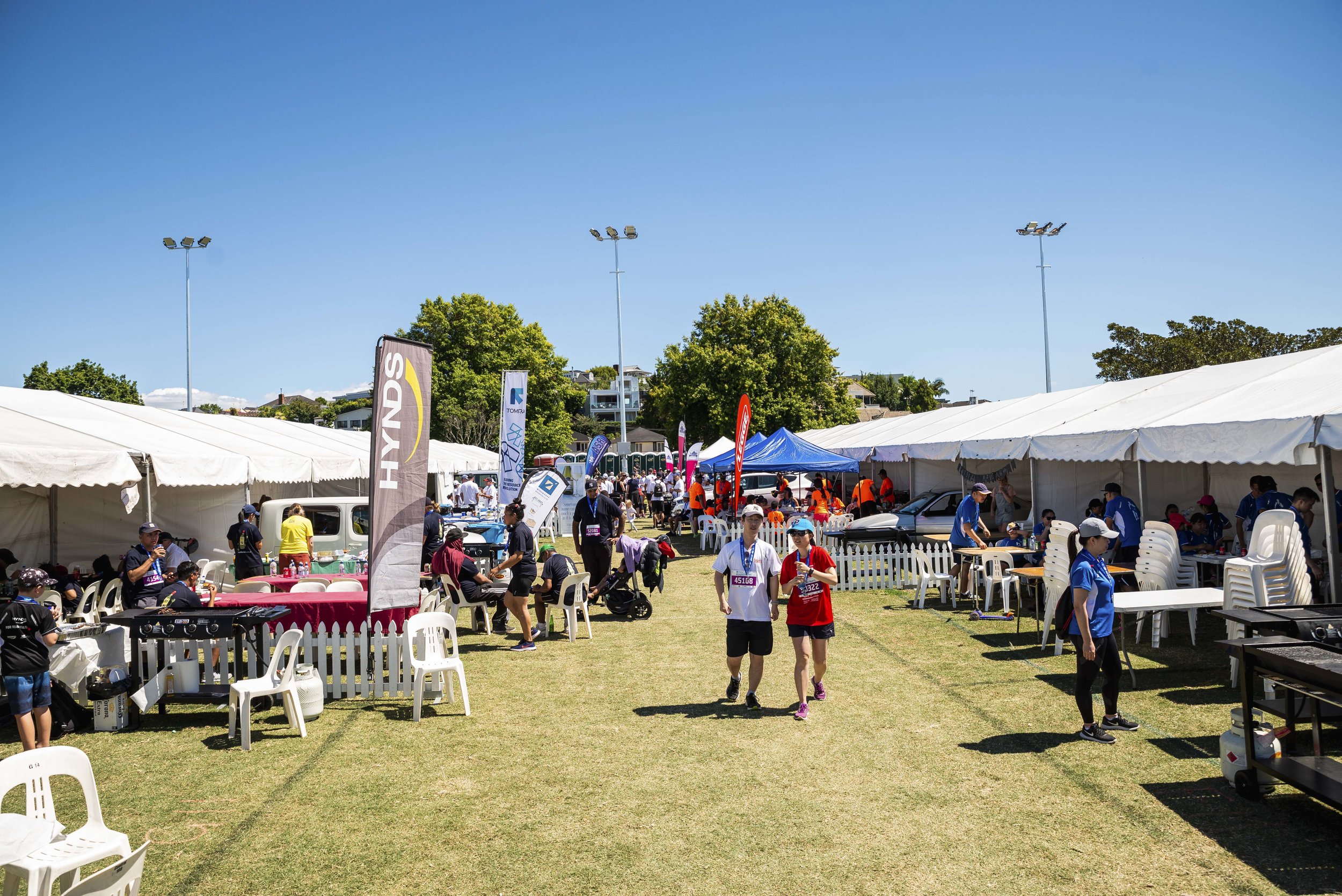 You've just ticked NZ's largest fun run off your bucket-list, now join in on NZ's largest BBQ, with one of our four after-party Hospitality Packages.
All packages are set up on Madills Farm, short 10 minute walk from the finish area at Vellenoweth Green.
Packages range from the 'DIY' package at $400 to the 'We have you covered' package at $1,500. Be the team hero and secure your after-party package today.
We are a fun run and don't take ourselves too seriously but if you're a Harry Hard-out or trying to smash a fitness goal, we do provide a state-of-the-art timing service.
Please ensure you wear your race number on the front of your shirt with nothing covering it, this allows our marshals not to have any awkward conversations!
There is no need to rush and create a stampede after the start cannon as your time is only recorded when you cross the start mats at the start line. Please do not jostle and push – take your time and soak up the good vibes.
Please help us out by not taking a selfie under the finishing arch, keep moving, your well-deserved medal and refreshing water awaits!
Enjoy the after-party atmosphere and don't sweat. Timing results will be posted on our website within a few hours of the event.
You've read this right! There will be free event shuttles running between the start and finish areas - simply show your bib to the event staff at the pick up zone
Pre-event shuttle (from the Parade, Vellenoweth Green to Commerce Street): 7.00am - 8.00am.

During and post-event shuttle (from Long Drive to between Commerce Street and Lower Queen Street): 10.30am - 2.15pm.
Please note there will be wait times at peak periods so don't rush, sit back, enjoy a drink, some food and soak up the entertainment, you've earned it!
Yeahs
We're not the fun police, but…
Adults, please be responsible and supervise children at all times. If they manage to slip through the cracks, please head to the Lost Kids tent at Vellenoweth Green or speak to the nearest marshal

We are prepared for accidents. St John is located at the start area, along the course near the water stations and at the finish area

There are plenty of water stations at the start area, along the course and a Pump station at the finish line. Please use the recycling bins provided.

For all those emergency stops, portable toilets are located close to the start and finish areas and at locations along the course

Look after yourself and others. Keep an eye out for uneven surfaces including cracks, potholes and bumps and if you come across an injured person, stop and render assistance, then inform a marshal at the next checkpoint

Participants must obey the instructions of police and course marshals. Although all roads on the course are closed to traffic, please watch for the presence of vehicles along the route, crossing your path, from behind and in front, at all times
Nahs
There aren't too many 'No's' so we appreciate your co-operation in following the few below
No pets, bicycles, scooters, hand cycles, skates, skateboards or roller blades are permitted

No poles or sharp objects

No drones
SUNDAY MARCH 8 2020
7.00am: First free event shuttle leaves Vellenoweth Green (finish area) and heads to the start line - running continuously until 8.30am
8.00am: Entertainment and formalities start at the start area on Quay St
8.15am: Last shuttle from Vellenoweth Green to the start line - don't miss this one or you may miss the run!
9.00am - 9.15am: Charity Cheque presentations and the group warm up at the start area. It's time to get those muscles moving!
9.30am: LET'S GO! Starting cannon
10.00am - 12.30pm: After-party on Vellenoweth Green (finish area) kicks off! We've got live music, food vendors a whole bunch of freebies to giveaway. Stick around, soak up the good vibes and celebrate completing #RTB2020!
10.30am: First free event shuttle from Long Drive (2 min walk from the finish area) leaves to head back to the start line area - running continuously until 2.15pm in case you were too.
11.00am - 1.00pm: If you're part of a team that purchased a Hospitality Package, this one's for you! After checking out the public after party on Vellenoweth Green, head down the road for a short 10min walk to Madills Farm for your private after party.
12.15pm: Participants must have all crossed the finish line! Head down to the finish line to cheer on the last of your peers
2.15pm: Last shuttle from Long Drive back to the start line area
2.30pm: Ports of Auckland Round the Bays is done and dusted for another year! We'll see you 2021 for our 49th year!
*Times are subject to change and will be updated closer to the event